Digital Signage Solutions
Looking for a monitor to advertise your business in a retail space? SCI has you covered. Display your company's message in front of potential customers at transportation hubs, entertainment locations, hospitals, corporate buildings, and many more places with digital signage. SCI can set you up with top of the line signage hardware, software, and integration solutions for entry level and enterprise customers alike.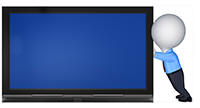 SCI offers a vast collection of LCD advertising displays, touch screens, and mounting hardware.
You don't have to be an artist to create an attractive digital display. SCI's professionally designed content and templates can do it for you.
Once you've chosen the perfect hardware and software package for your business' needs, SCI's installation professionals will get your digital signage network up and running.