Hardware and Software Procurement
SCI will assist you with defining hardware and software requirements and identifying the most economical way to achieve them. By staying on top of emerging technologies, they can quickly upgrade your existing computer and network systems affordably thanks to vendor relationships they have developed over the past 15 years.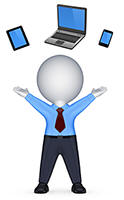 Acer builds rock-solid, performance PCs with industry-low failure rates and proven reliability at affordable price. Acer's products balance innovation with affordability, and the latest solutions, design, and advanced features. You can be sure that Acer brings true value to your business for your money.
The world leader in networking, Cisco's reliable and secure networks can handle any type of traffic though out the entire network, over virtually an medium, with consistent delivery to all users.
HP Business PCs are designed to give mobile workers and nimble businesses the edge they need. HP products offer flexible and intuitive hardware, built-in security tools, comprehensive software solutions, straightforward manageability, and support you can count on.