Server Solutions
Driven by the pressures of business, office servers typically evolve organically. SCI specializes in expert design, installation, and attendance of network servers based on latest technologies that meet the requirements of your business. Leave the server setup to us and we'll have you up and running in no time.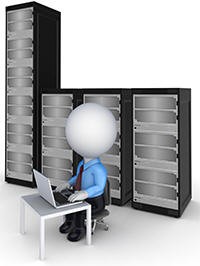 File servers provide centralized storage and management of all your business data, allowing access to anyone connected to your network.
Webmail affords email access to employees working off-site or from home. You maintain full control over mailbox permissions, public folders, and shared calendars.
Store, process, and deliver web pages quickly and efficiently with SCI's web hosting servers. These can also be embedded in devices such as printers, routers, webcams and local networks to increase technological monitoring.
With centralized storage, you can share and run applications across your network on multiple platforms, providing a higher level of reliability, security, stability, and lessening downtime. Ideal for businesses running Quickbooks, ACT, Peachtree, Microsoft Access Databases, or any other application capable of being shared across a network.
Secure your device with authentication requests (logging in, checking permissions, etc.) within a Windows domain. A user may be granted access to a number of computer resources with the use of a single username and password combination.