Disaster Recovery and Business Continuity
You might not like to think about it, but it could happen. Be prepared for the worst with an IT business continuity and disaster recovery plan. SCI offers peace of mind with the right combination of features and conveniences to ensure that data recovery is quick and seamless if a major outage should strike your business. We provide a variety of backup and recovery solutions to best fit the needs of every customer we serve.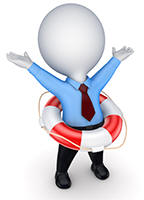 Hard drive crashes, editing mishaps, fires, floods, and earthquakes can spell the end of your digital media and documents. SCI's online cloud backup software is the best way to protect your irreplaceable digital goods.
You can share the space and keep your data protected while access is controlled and secured for each individual customer.
Backup is more than hardware and one size does not fit all. SCI can custom tailor an on-premise solution for your small business.