Network and Internet Security
Your business has become increasingly dependent on safe and robust access to the internet. In turn, you need protection from burgeoning online threats as well as the ability to monitor and control what your employees are doing online. SCI's deep relationships and understanding of the leading network and security vendors enables us to deliver highly secure and reliable services throughout your organization from point to point, regardless of your location.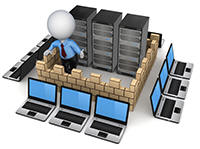 Email security protects against ransomware, business email compromise, spoofing, and phishing. It uses advanced threat intelligence and a multilayered approach to protect inbound messages and sensitive outbound data.
SCI will install and actively manage antivirus and malware protection applications, protecting you at all times simply from our centralized server.
SCI offers managed network services to put you at ease. Network monitoring constantly monitors your computer network for slow or failing components and that notifies the network administrator (via email, SMS or other alarms) in case of outages or other trouble.